Kheri Licorice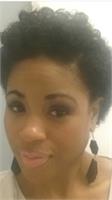 Kheri took an interest in dance at a young age starting her training with ballet and modern dance. She then moved on to hip-hop, step and salsa. She has danced with various local dance troupes for over 15 years.
After experiencing the loss of a loved one, Kheri turned to pole dancing as an outlet for her anxieties. It worked, but it offered her much more. With pole, she has combined prior knowledge and dance experience with something challenging and liberating all while keeping her in shape.
Kheri now teaches Hot Seats, Booty Pop and Poletry classes at BFPD.
When it comes to pole, Kheri says practice, but be patient. Any progress is just that...progress!
Kheri Licorice is currently not instructing any classes.