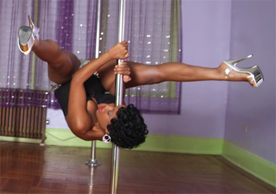 Brooklyn's Finest Pole Dancing Studio is centrally located in the heart of Crown Heights, Brooklyn. Our studio is exclusive to women, providing a haven where women can be free to play and explore. We pride ourselves on providing an encouraging atmosphere to help women to overcome inhibitions and insecurities while celebrating their feminine sensuality. Brooklyn's Finest "Poletry" classes concentrate on skills, technique, as well as artistry. Students develop core and upper body strength, endurance, flexibility, and stamina.

We offer drop-in classes allowing for students to attend class as often as they'd like. We also offer special Women's Wellness Workshops on women's health, sexuality, and overall wellness. All workshops are lead by well qualified industry professionals. These events are open to students and clients of Brooklyn's Finest as well as the general public.

At Brooklyn's Finest there is always a reason to celebrate. Our parties are custom designed to suit the occasion. Be it a Bachelorette or Birthday Party, or just Ladies Night Out, let us show you a good time. Enjoy pole and chair dancing, games, and even pampering at your event (special arrangement must be made). You're sure to have a unique experience with us.
We invite you to join us and discover all the Fine services that are available for your enjoyment and empowerment. We look forward to serving you!
Have fun, get fit, look fierce!
Poletry Newbies (For students new to pole 0-3 classes prior)
Students with no prior pole dancing experience are encouraged to take this class. In this class you will learn the fundamentals of pole dancing. Basic grips, spins, climbs, floorwork and transitional movements are generally taught within a choreographed routine in each class. This class will wet your appetite and give you a taste of what pole dancing is like. Students with very little prior pole dancing experience are also encouraged to take this class to learn basic skills before moving on to the beginner through advanced levels.
Beginner Poletry
Students who are in the beginner level should be able to climb to the top of the pole without assistance and execute basic spins. A choreographed routine will be taught and broken down and close attention will be given to fundamentals and technique. Strength and endurance is starting to really be developed at this level in order to prepare for more advanced routines, combo spins etc.
Intermediate & Advanced Poletry
Students who have a strong foundation and are proficient in the fundamentals and the beginner movement vocabulary are encouraged to take this class. Close attention is given to technique, however, students begin to incorporate artistry into the movements and basic inversions. This class may incorporate choreography, however, more attention is given to perfecting complex skills such as combo spins, advanced climbs, and basic-advanced inversion tricks.
Open Level Poletry
Students who are beginner or intermediate/advanced may take this class. A choreographed routine is taught and tailored to the students in class. The instructor modifies skills for beginners and challenges intermediate/advanced students with more difficult skills.
Booty POP
Learn the art of isolating the booty and making it dance. Learn to twerk, pop and drop it. This class is a nice compliment to the poletry as it allows you to thouroughly work the lower half of the body. You will learn the fundamentals of working the booty and then tie it all into a wonderful booty popping dance routine.
Fine Chisel
This class is designed to develop core, upper and lower body strength and improve muscular definition and endurance. You will use cardio, resistance tubes, free weights, the poles, and your own body weight to become stronger.
Vinyasa Flow Yoga
This class is a traditional power Vinyasa flow that weaves various meditative breathing exercises in with challenging stretches. This class is a great way to relieve the stresses of daily life while building strength and flexibility.


Abs & Booty
Focus on strengthening your core and tightening and lifting the glutes with this intense workout.